Weeks 4 and 5
CEO Guest Speakers
---
CEO learns about manufacturing at SCHOTT Gemtron
Don Spivey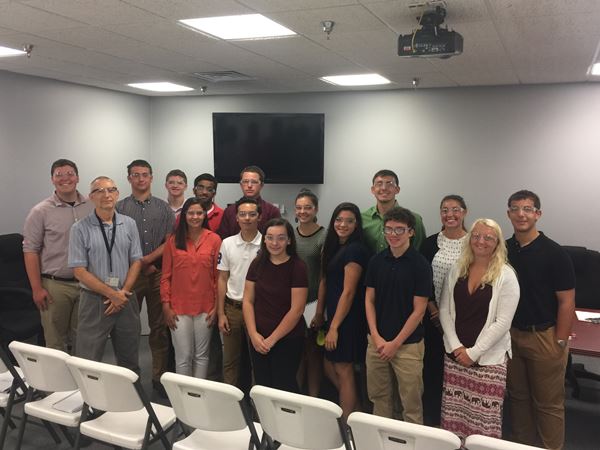 The Knox County CEO class was able to go to SCHOTT Gemtron and tour the facility thanks to Don Spivey.  Mr. Spivey started the morning out by talking about the history behind the company.  It was definitely facinating to hear about how anyone can start anything as long as you work hard.  Thank you for sharing the entrepreneurship story about how one retired employee and one football coach believed in themselves and started their business in a garage that grew to multiple factories. Mr. Spivey also talked about how there are many different careers in Manufacturing. 
After learning about the history behind SCHOTT, Mr. Spivey took the students on a tour of the floor where they manufactured cooktops and refrigerator shelving. It was very interesting to see how robots are used to create something that we have in our own homes.  It was very cool to go home and realize that what we have was made right here in Vincennes, IN.
Thank you, Mr. Spivey for your time and Thank You SCHOTT Gemtron for investing in the Knox County CEO program.
---
THANK YOU to our investors!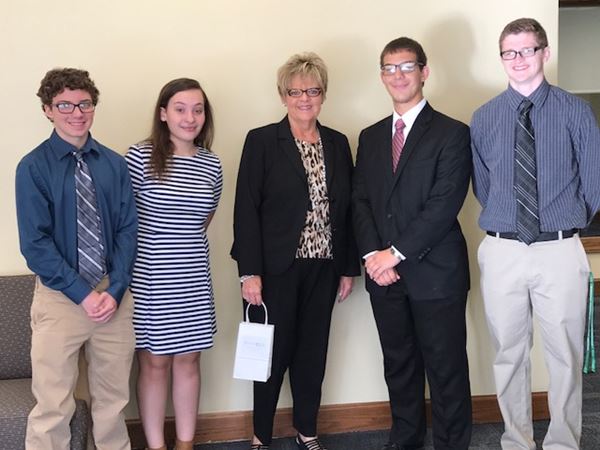 The Knox County CEO class would not be possible without our business investors. It is very important for the students to see first hand how important it is to give back to the community and to invest in the future leaders.  Our students took this very seriously.  They planned two days where they divided into groups of four and divided the investors.  Each group had around ten investors they personally thanked.  The class also wanted to make sure that each investor knew what they had done was a big deal.  The students got a sponsor early during a microbusiness project.  They chose to take some of the money they had raised to purchase window clings.  The "Knox County CEO Investor" window clings were given to each investor with a bag of Charlie's caramel corn. THANK YOU Charlie's Candies for that very generous donation!
The students enjoyed meeting the investors and thanking them for their time and investment in their future.  
---
Miller Construction Part 2
Bill Miller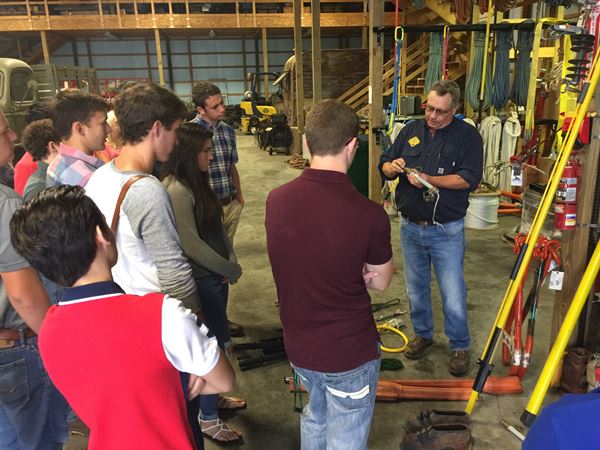 The dad of our very own, Isabel Miller, invited the CEO class back to Miller Construction to tour the outside buildings and get an upclose look at the tools the linemen use.  Bill Miller, the Chief Operating Officer, shared his life long knowledge of how important safety is for their employees.  Without a high level of safety, it could mean the loss of a life.  The students got to see what the linemen had to wear to keep them safe when they are repairing and building power lines. They got to see how the large equipment worked and they were amazed at what they cost.  Mr. Miller took the students to the large building and demonstrated how the linemen would work on the power lines with a variety of tools. It was very interesting to learn how we get the power to our homes.  Mr. Miller also shared his collection of WWII items with the students.
Thank you Miller Construction for having the CEO class back.  Thank you for investing in our future!
---
Dr. Darrel Bobe speaks to CEO students
Dr. Darrel Bobe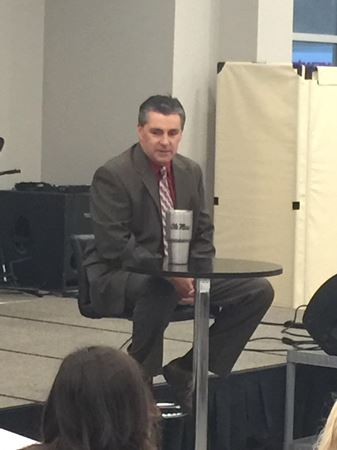 On August 29th, Dr. Darrel Bobe was a guest speaker for the CEO class. Dr. Bobe shared his career path from the time he graduated college to present day.  He told the students that all jobs you have shape you for you will become.  He shared his jobs with the class and told them that today he still uses what he learned from those jobs in his current career as superintendent of North Knox School Corporation and part owner of Charlie's Candies. He shared a few things with these young entrepreneurs that his father had passed along to him when he was thinking of becoming a business owner. "You are going to live your own business" and "Be careful what you wish for".  
The student's took to heart all of Dr. Bobe's life's lessons that he shared:
Make your own things happen
You need to fully trust someone to run your business
You need to make sure everyone feels important...Take time to talk to people
Don't ever think you are too big...You can always be replaced
You need to be willing to work at things you don't like to do
Competition is good
Sometimes you have to say "no"
Buy local
Say "YES" to the things that interst you and things that make your business better
Schedule time to do what you love! No one will tell you to make time to do it.  He had each student tell what they loved to do and then write it down in their notebooks so they are reminded to take the time to do what they loved.
Thank you Dr. Bobe for sharing with the Knox County CEO class.  We very much appreciate you making time for us!
---
CEO goes to Holiday World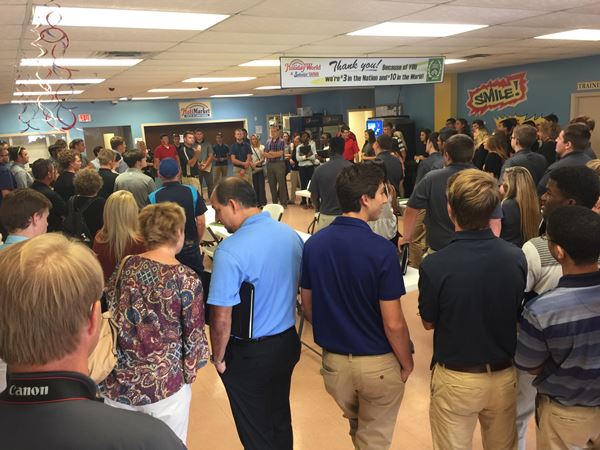 The Knox County CEO, along with six other CEO classes, was invited by Daviess County CEO to pay a visit to Holiday World in Santa Clause, Indiana.  The approximately 150 students got a rare look into the business side of Holiday World.  They got a tour of the grounds and was provided lunch back at the banquet room.  After lunch, the students had several speakers: 
Vanessa Bye, Human Resource Trainer
Karen Strahl, Safety Manager
Sean Strahl, Maintenance Planner
Sean Bull, Maintenance Technician
Lori Cotton, Attractions Manager
Eric Rentz, Director of Attractions
Phyllis Hayden, HR Administrator: Park Tour Guide
Matt Luebbehusen, HR Manager
Anthony Van Camp, Lead Maintenance Technician
Natalee Williams, Food & Beverage Manager
As a special treat, Holiday World opened up the Thunderbird roller coaster so the students could experience the thrill of this coaster.  It went from 0-60 in 3 seconds!  Needless to say there was a lot of screaming!
A special Thank you to Bill Turner, Daviess County CEO facilitator, for arranging this wonderful trip. Thank you to South Knox for donating the bus for the trip.
---
CEO gives to the victims of Hurricane Harvey
Hurricane Harvey's aftermath was horrible for the citizens of Texas.  The CEO students immediately wanted to help however they could from their own classroom.  The students took money from their account and decided to purchase much needed items and put them on a semi.  The semi was being driven to Texas by Helping His Hands.  The students went as a class to Walmart to purchase items for personal kits for men and women as well as cases of water. When they returned to class the students assembled the kits.
This was one of the favorite activies that the students participated in. It was important to them to help others. 
---