Knox County CEO Update
---
Good Samaritan Hospital
Good Samaritan Hospital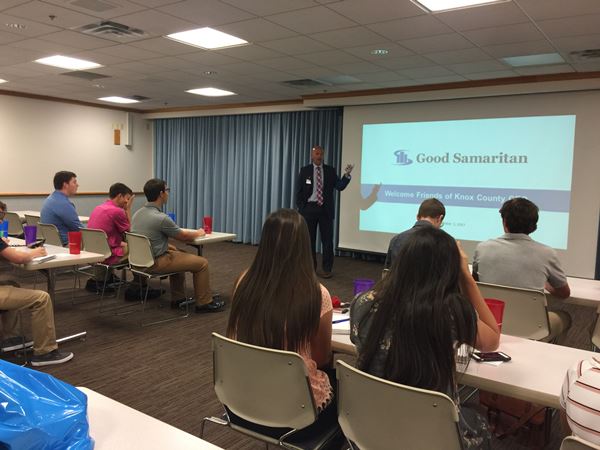 Knox County CEO was honored that we got to visit Good Samaritan Hospital.  The class was excited to hear from: Rob McLin ~ Chief Executive Officer; Adam Thacker ~ Chief Operating Officer; Dean Wagoner ~ Vice President of Human Resources; Matt Schuckman ~ Vice President of Operations; Debbie Swain ~ Public Relations; and Tiffany Conover ~ Director of Marketing. The students were very impressed by what it takes to run a hospital on a daily basis.  They were amazed at the many decisions that must be made just to keep the hospital running while making sure there is enough revenue. Thank you to the Good Samaritan Leadership team for taking time out of their busy schedules to speak with the CEO class.
---
INVIN's Ellen Harper teaches CEO about SWOT Analysis
Ellen Harper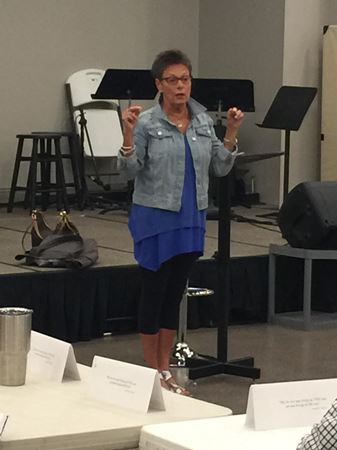 I really enjoyed when Ellen Harper came to speak to us. She is the executive director of INVin in Vincennes, Indiana. Ellen gave some very valuable information such as saying the partnerships are huge in life. INVin is also a privately funded business. i learned all of the different properties and projects associated with InVin such as, New Moon, which will be Old Chicago's Pizza; the Pantheon, which will hopefully be a shared space; main street revitalization; sales tax reinvestment programs; and the stellar communities program. She also mentioned that in a business, things could get off track if there is no communication. Something that I really liked when Mrs. Harper  visited was doing the SWOT analysis. SWOT stands for Strengths, Weaknesses, Opportunities and Threats. We did a SWOT analysis over our class business and I think we learned as a class what would be good and bad about having our class business. Overall Ellen Harper is a great speaker and I really learned a lot about Vincennes that I did not know before.
~ Isabel Miller, Knox County CEO Student
---
CEO visits Procopio's Pizza and Pasta
Procopio's Pizza and Pasta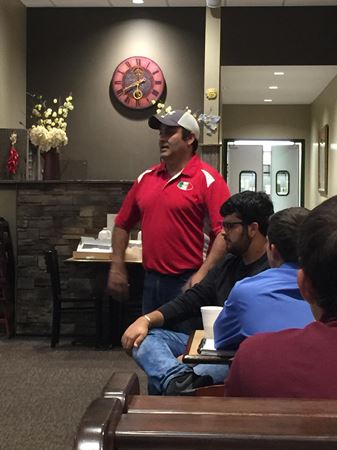 On September 12th, the Knox County CEO class went to Procopio's. It was very interesting to visit this business because this was the first restaurant that we went to and they were one of our investors! On this visit, I learned about owning a business. For example, I learned that being a business owner requires you to be on the same level as your customers. Another life lesson I learned was to go to school for what you're interested in. To be successful in business you must be interested and knowledgeable in that field. I also learned that being self-employed is a 24/7 job. Being self-employed is not a 9-5 job and it is hard to separate work from your personal life. This business visit was fantastic and provided many useful life-lessons. Thank you Procopio, Alfonso, and Kristen for providing breakfast and sharing your experiences.
~Isaac Burson, Knox County CEO Student
---
CEO Board Member Bill Sandiford comes for a visit
First Vincennes Savings Bank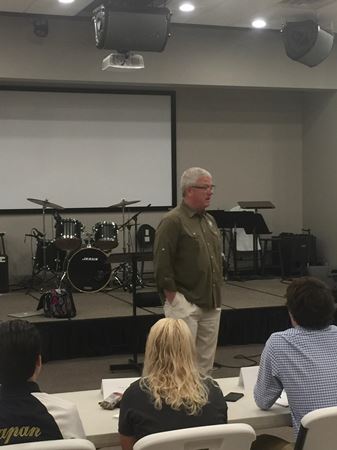 Having Bill Sandiford come in and speak to us was a very enjoyable experience. He spoke to us about remembering that cost isn't everything, but it sure is important. He reminded us to not take things personally and to always be cordial. Mr. Sandiford didn't just teach us to be just business-minded, but to also be a sociable person and do what you love. He said also said to remember when planning our individual businesses, "If it doesn't cash flow, it's a no." Being a banker was very beneficial to Mr. Sandiford and his memories and obstacles that he overcame were very important to me. He told us that we need to not only be successful in our personal ventures, but to also live our life to the fullest. I learned that not everything is about money. Living life is important, and so is creating contacts and friends for life. That is what Mr. Bill Sandiford taught me…To be an outgoing person who wants to be successful in life.
~Samuel Damon, Knox County CEO Student
---
Teamwork Makes the Dream Work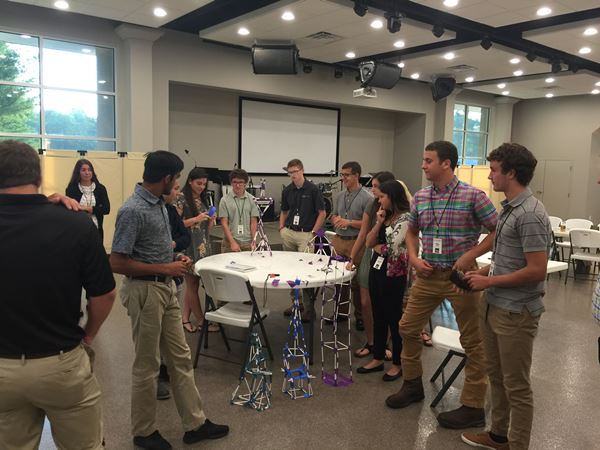 Some days it is great to have a class day and just get to know one another.  We use teamwork games and activities to learn each other's personalities and how to communicate.  We had a great time building a tower with duct tape and straws.
---
Investor Breakfast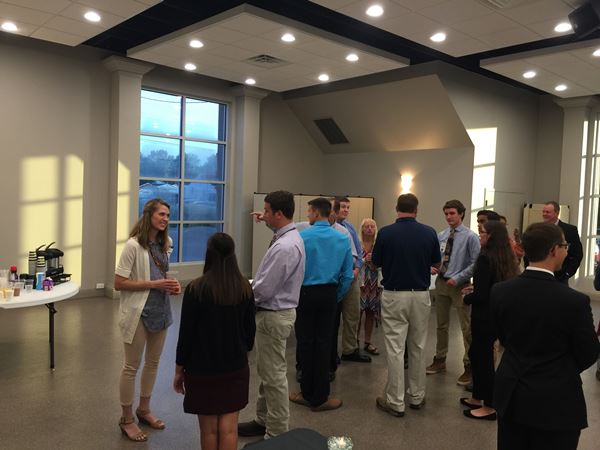 I feel like the  investor breakfast was a good experience for everyone. The breakfast gave the investors a chance to meet the students that participated in the program they invested in.  As one of the students, I enjoyed meeting new people and strengthening my network with business people in the community.  We enjoyed the opportunity to be able to ask professionals questions that we have to help our future.  Thank you to the investors and board members that attended the breakfast.  Our next breakfast will be December 15th.  Please save the date!
~Coleton Hostetler, Knox County CEO Student
---
Kristen Hadeed Speaks to all CEO Counties
Kristen Hadeed
We sat in class and watched a stream of an online speaker, Kristen Hadeed. Kristen is an entrepreneur who started a cleaning business in college. Her business started all because she wanted to buy a pair of jeans. Kristen recently published her first book: Permission to Screw Up: how I Learned to Lead By Doing. She spoke about her inspirational story and gave a lot of helpful advice that I plan to use in my future. She said that you have to come with a solution instead of just a problem. She also said that it is important to get out of your comfort zone. I think all of her advice is very constructive and useful. One quote that I really enjoyed that she said was "I became a leader by doing everything wrong." I really enjoyed listening to her speak about many things that could be beneficial in my future.
~ Jaren Pfoff, Knox County CEO Student
---
Off to Court CEO Goes...
Knox County Council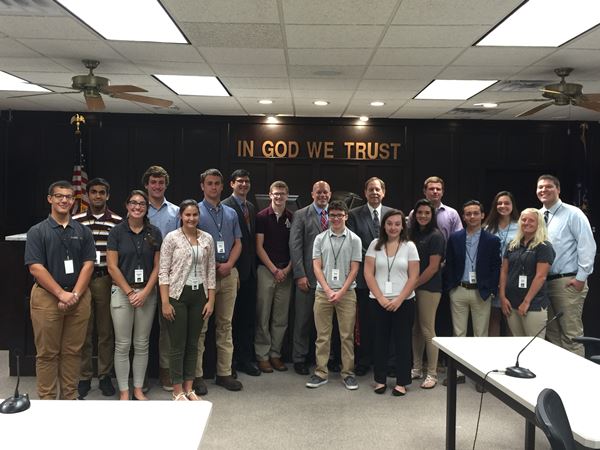 On September 26th, the Knox County CEO class visited Judge Ryan Johanningsmeier's courtroom. During our visit, Judge Johanningsmeier, Mr. Bob Lechner, and Mr. Joe Williams shared their experiences with us. Judge Johanningsmeier spoke to us about his career which began in 2014 when he was elected by the people of Knox County. He talked to us about his career path as well and the obstacles he faced. Judge Johanningsmeier said that having a strong work history and being a people person will help us in the future. Mr. Williams is the direct coordinator of the drug court. He spoke to us about his experience in the Knox County Drug court. Mr. Bob Lechner had several careers but is a businessman.  He told us that no matter what job we do something we learn from it will be applied to our future career. He said, "Wherever you work, even if you don't like it, you're going to benefit." I enjoyed the visit to the courthouse. They gave us many good points and life lessons. My favorite thing was when Judge Johanningsmeier told us, "To be successful, find something you're passionate about…find your passion."
~ Brilee Albrecht, Knox County CEO Student
---
Kellie Streeter Shares Her Experiences
Kellie Streeter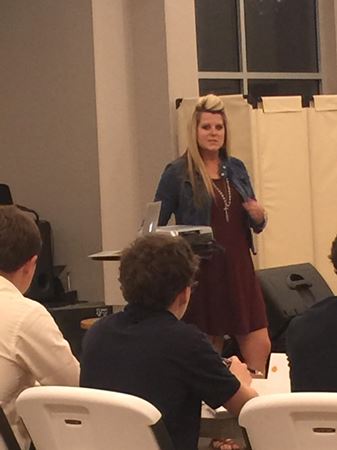 We had Kelly Streeter come in to speak to the Knox County CEO class. I thought it was cool that she told us she was a CEO but did not own a business…she was the CEO of Knox County. I did not know there were three county commissioners that served their own districts.. I also did not know they had an unlimited amount of terms. Mrs. Streeter shared with us that she relies on a lot of businesses and people to make her job successful. She shared the different employees they hired to make our county run smoothly. I learned a lot about the county from Mrs. Streeter.  I am thankful she was able to make time out of her busy schedule to speak with us.
~ Gage Cooper, Knox County CEO Student
---
The Bestway Express Visit
Bestway Express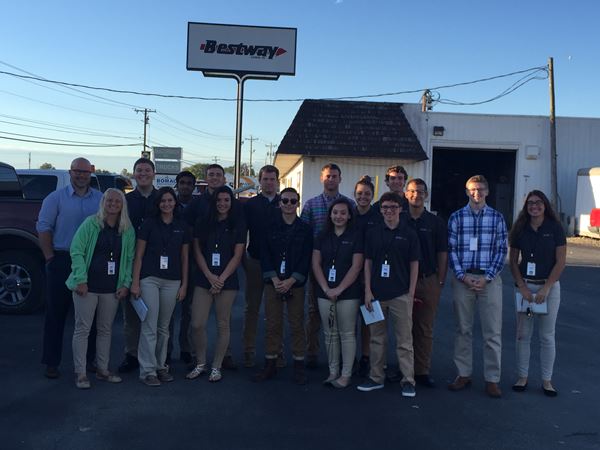 The Knox County CEO class was invited to visit Bestway Express by Mr. Eli McCormick.. I thought Bestway Express was very interesting since they started in 1981. At first they owned a freightliner dealership and also owned a Volvo dealership. They started trucking with 200 trucks and 400 trailers.  At one point they had 300 trucks and 700 trailers. The current owner, Mr. McCormick, is an ISU graduate who never had any intention on running this business. When his dad died in 2006, he had left the company to his sons. It was great hearing from a young business owner that has worked hard to learn every aspect of the company so that he can lead his employees and company into a successful future.
~ Alex Rusch, Knox County CEO Student
---
Barb Donnar Visits the CEO Class
Supportive Insurance Services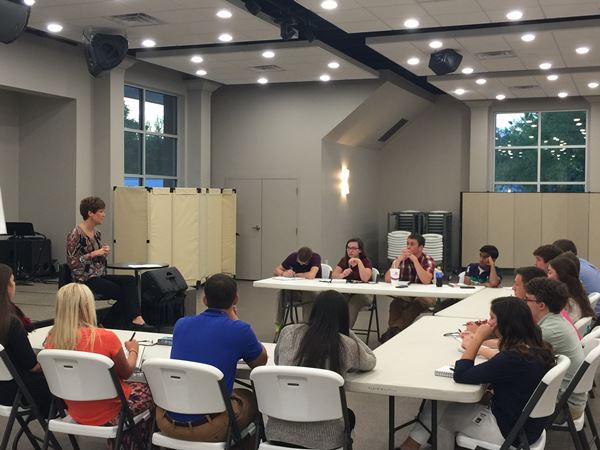 On October 3rd, Barb Donnar came to talk to the Knox County CEO Class about her business, Supportive Insurance Services. This day was an awesome learning experience. I had no idea this service existed, let alone this particular business. It is incredible to me how she started a business on her own. Mrs. Donnar's company does licensing for insurance companies. The work they do is not hard, but it is work that others do not want or specifically know how to do. Mrs. Donnar learned responsibility at her family truck stop growing up. She also taught us that dealing with a lot of different people teaches things that can help in any business. She stressed the importance of helping others and giving back.  Thank you, Barb Donnar for visiting our class.
~ Mason Utt, Knox County CEO Student
---
Hurricane Ditcher Visit
Hurricane Ditcher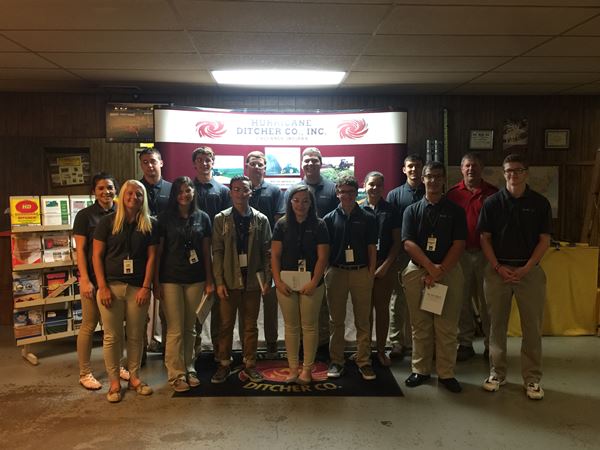 On October 5th, the CEO class visited Hurricane Ditcher.  Hurricane Ditcher was created in 1984 by Paul Snyder and his son John Snyder. Mr. Snyder showed us his business and all that he does for this business. He showed us his equipment  and all the tools that go into making a quality ditcher. The business he is in is tricky because goes in spurts along with the agricultural economy.  He shared some of his future plans with his equipment. Hurricane Ditcher is a small business that not many people know of but their product is sold across the world. Thank you John Snyder for taking time out of your busy day to talk with the Knox County CEO class.
~ Collin Fausnaugh, Knox County CEO Student
---
CEO Students promote the class at the Tour of Opportunity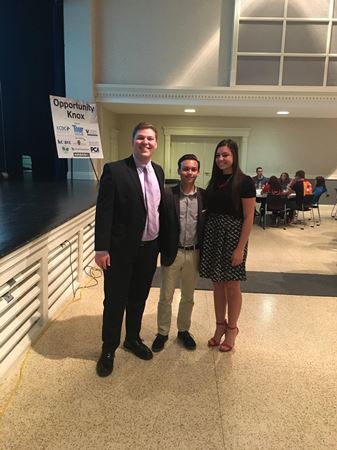 Three of the CEO students volunteered to promote the Knox County CEO class to juniors from every Knox County high school.  They were invited by Kent Utt, KCDC, to present during lunch at the Tour Of Opportunity.  The three did a great job representing the class!
---
Kerns Excavating
Kerns Excavating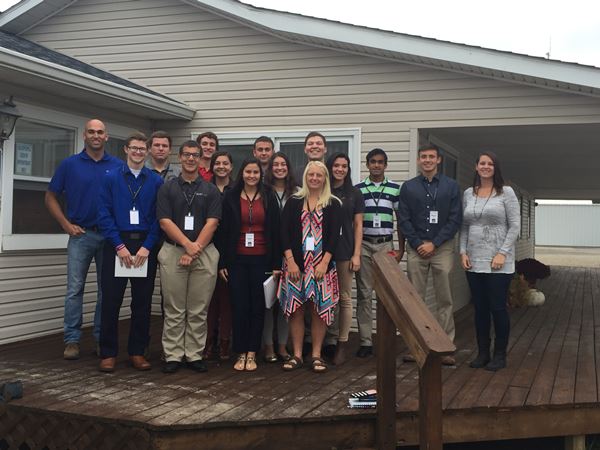 We went to Kerns Excavating on October 12, 2017. We learned that going to college is not necessarily about the books, but more about the contacts you make while you are there. We were privileged to get to spend the morning with Ryan and Erin Kerns. I enjoyed learning about how he started his own business. They told us that they established the business in 2004. Mr. and Mrs. Kerns told us that to have a successful business you need to run it with integrity. Do what you say you are going to do when you say you are going to do it. You should never over promise and under deliver.  It is so important to build a positive reputation. They also told us that we should learn to negotiate now and learn to protect our money.  We enjoyed learning from young entrepreneurs like Mr. and Mrs. Kerns.  Thank you for having the CEO class and thank you for investing in our class and our futures!
~Lexi Wilson, Knox County CEO Student
---
Learning about LinkedIn and the PGA
Kourtney Marchino & Adam Schenk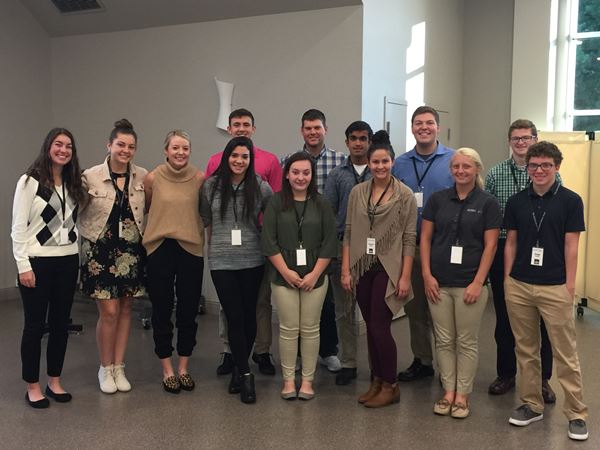 South Knox Alums Kourtney Marchino and Adam Schenk came to speak with our Knox County CEO class on October 13th. Kourtney spoke with us about her position at LinkedIn.  Adam gave us some insight on his PGA tour and the rest of his golf career. They both spoke about their college achievements. I really enjoyed their life lessons they shared with us such as: make sure to develop relationships and really get to know people, treat college as a job, go to career fairs, and make sure you stay involved.  It was really fun to talk to young career people that were honest about how their carved their career paths.  We very much appreciate Adam and Kourtney taking time to come and visit our class.
~Lauren Parker, Knox County CEO Student
---